The James Low Quartet performed in Hong Kong from 1998 to 2001, including the famed Jazz Club in LKF on July 24th, 2000, which has been graced such peformers as Herbie Hancock and Eugene Pao.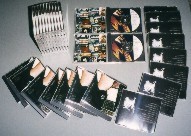 In 1999 they released the ablum Poiema. "Simply elegant but intricate jazz music put together by the cream of the young musicians from Hong Kong. Blending the old classics with a new twist, featuring jazz talents rarely seen at present days." – Gerald Von Lee, prominent blues guitarist in Hong Kong.
Poiema…..something beautiful, an inspired creation, a work of art. That is what this album attempts to be, through all limitations; equipment, time, ability…..a piece of art and selfexpression to worship and glorify Jesus.

This album was recorded live direct to a two track master. Even though this makes the recording more difficult, it does capture the human element of the performance, and contributes to the musical expression. The CD is a mixture of Jazz/Gospel/Blues/R&B/Rock.
"Summetime" from the CD was played on Marshall Hughe's Radio show "Folkroots" on RTHK Radio 3 (AM 567) at 6:55pm Hong Kong time on Saturday 25th September 1999. "What a Wonderful World" and "HK Funk" were played the following Saturdays(2nd and 9th of October). It has also been played at the Jazz Club and Jaspers in HK.
The final track list, 5 orginals 5 covers:
1 HK Funk – Preston Lau
2 Summertime – G. Gershwin / I. Gershwin / Du Bose Heyward
3 On Side (Take 20) – James D. Low
4 Poiema – James D. Low
5 (So What if it's) Cantaloupe – H. Hancock
6 Revelation – R. Ferrante / L. Perry
7 Times are Changing – James D. Low
8 All Things Beautiful – James D. Low
9 My Love is Your Love – J. Duplessis / J. Wycliff
10 What a Wonderful World – G. D. Weisee, R. Thiele
Musicians:
Guitar/Trumpet – James D. Low
Piano/Vocals: Dawen Wang
Bass: Edmund Chan
Drums: Marvin Kim
Flute: Pippa Low
Harmonica: Keith Khunpha
Except…..
Piano on HK Funk: Preston Lau
Drums on HK Funk and On Side: Lester Chan
Produced and Arranged by James D. Low
Photographs: Katey Horsnell & Pippa Low
Recorded live to MD backing vocals and trumpet overdubbed using Cakewalk Pro Audio. The CD was avaliable for sale from Works Records:
38 Hankow Road, G/F, Tsim Sha Tsui, Kowloon.