I've been wanting a presentation program that could display on a TV or projector for my iPhone for a long time, firstly a laptop doesn't fit in your pocket, and the new display port on my Macbook doesn't have a TV out adapter. I thought about writing a mobile version of my Limelight application, that is a presentation management application, meaning it can handle different file types (powerpoint, text, movies), within the same application. That would be a lot of work and there aren't any other programs out there yet. Apple hasn't made their video out API public, so even the programs that can display powerpoint, can't do it externally on a TV.
Discovery
I was browsing the Apple online store (as you do), and saw that the cable I have for plugging my iPhone in a TV also supported displaying photos. I didn't realise this because it only does it when you start a slide show, by clicking the play button in a photo album. That made my mind click, and I realised I could use it to show presentations, or song lyrics.
Song lyric slides
Putting powerpoint presentations on the iPhone is discussed here, but this article will discuss how to easily create song lyric slides using Limelight. Once you've downloaded Limelight (available for mac or pc), and created some lyric files (just plain text files), you can simply right click a file or a set list and export images.

Sync photos
You should then have some slides exported to your Documents folder. These can then be copied to iPhoto or the folder on your computer that you synchronise your photos using iTunes to your iPod/iPhone. You'll then be able to do something like this:
Tips and tricks
1) You need to start the slide show after plugging in the cable, otherwise it won't show on your screen
2) You can't normally pause a slide show on the iPhone, but you can if you're outputting to the TV! That's what you need for presentations! See the below screenshot.
3) You can edit the slide show settings under Settings -> Photos (I set the longest slide setting)
4) You can edit your TV out settings under Settings -> iPod-> TV Out
5) Its a good idea to turn of auto screenlock in Settings -> General -> Auto-Lock
6) You may need to reorder your photos within the album in iPhoto
7) To display your slides on a TV you'll need a Apple Component AV Cable or Apple Composite AV Cable. On the iPhone your display resolution will be limited to 480i (NTSC) or 576i (PAL). You can find out about more about video capabilities of Apple products here.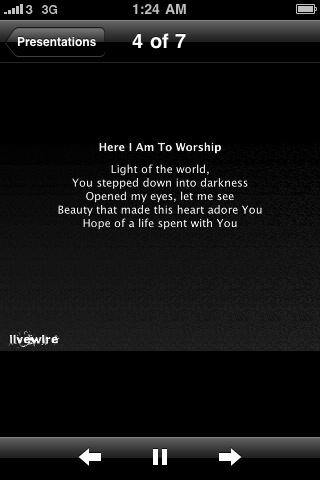 More to come
You can probably get this working on other phones/PDAs/MP3/video players that have a video out, but I don't have one to try it. There will definitely be more updates to Limelight in the future, including customising the layout and additional file formats like movies and powerpoint. The first update will probably be do add a view to size the images so that they are 480 (NTSC) or 576 (PAL) which should provide the best quality output on those screens.